Lorain Lighthouse Sunset Wine Dinners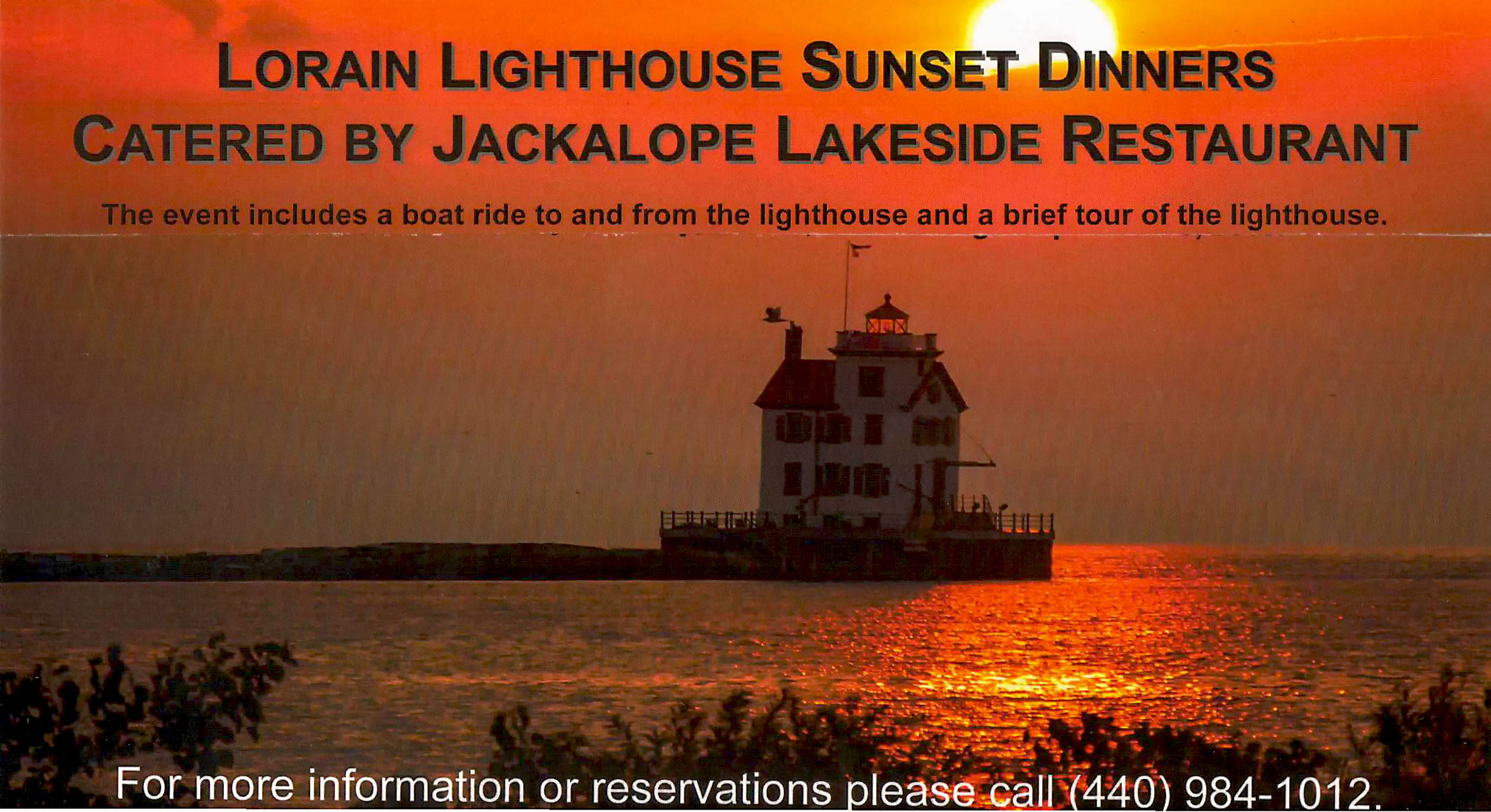 The 2018 Lorain Lighthouse Sunset Wine Dinners will start on Tuesday, June 12, 2018 and run every Tuesday thru Tuesday, September 11, 2018 (weather permitting). This is a fantastic way to celebrate a special occasion and catch one of Ohio's most beautiful sunsets. The evening includes a boat ride (departing from the Spitzer Lakeside Marina – 301 Lakeside Ave.) to and from the lighthouse and a brief guided tour of the lighthouse. The dinner, including a wine paired with each course, is catered by the Jackalope Lakeside Restaurant. The cost per person is $130 (includes tip) and the reservation can be made by calling 440-984-1012.  There is a limited number of 18 reservations available for each dinner, so please call early.
2018 Lorain Lighthouse Tours
Tours of the Lorain Lighthouse are available during the summer months departing by boat from Dock "A" (Transit Dock) by the Jackalope Restaurant. Tour boats depart every 45 minutes. Tickets for the boat ride and tour are $20.00 per person. They are available online (starting in spring of 2018).
You may also make reservations by calling 440.326.1968.
Reservations have priority over walk-ins.
Proceeds go to the Lighthouse restoration and maintenance.  Financial support is always needed and all donations are welcome – visit DONATE TO THE LIGHTHOUSE to make a donation.
Thank you and we will see you out at the Lighthouse!
Merchandise will be available for sale at both Dock A (departure site) and the Lorain Lighthouse.
Each boat will depart Dock A every 45 minutes as follows:
 

JUNE
June 6, Wednesday: 1st Tour Departs Dock A @5:15 pm
                                                           2nd Tour Departs Dock A @ 6:00 pm
                                    3rd Tour Departs Dock A @ 6:45 pm
                                    4th Tour Departs Dock A @ 7:30 pm
June 17, Sunday: 1st Tour Departs Dock A @11:30 am
                                                       2nd Tour Departs Dock A @ 12:15 pm
                            3rd Tour Departs Dock A @ 1:00 pm
                            4th Tour Departs Dock A @ 1:45 pm
June 30, Saturday: 1st Tour Departs Dock A @11:30 am
                                                          2nd Tour Departs Dock A @ 12:15 pm
                                 3rd Tour Departs Dock A @ 1:00 pm
                                 4th Tour Departs Dock A @ 1:45 pm
 

JULY
July 8, Sunday: 1st Tour Departs Dock A @5:15 pm
                                                       2nd Tour Departs Dock A @ 6:00 pm
                           3rd Tour Departs Dock A @ 6:45 pm
                           4th Tour Departs Dock A @ 7:30 pm
July 11, Wednesday: 1st Tour Departs Dock A @5:15 pm
                                                            2nd Tour Departs Dock A @ 6:00 pm
                                      3rd Tour Departs Dock A @ 6:45 pm
                                      4th Tour Departs Dock A @ 7:30 pm
July 25,Wednesday: 1st Tour Departs Dock A @5:15 pm
                                                           2nd Tour Departs Dock A @ 6:00 pm
                                     3rd Tour Departs Dock A @ 6:45 pm
                                    4th Tour Departs Dock A @ 7:30 pm
July 28, Saturday: 1st Tour Departs Dock A @11:30 am
                                                        2nd Tour Departs Dock A @ 12:15 pm
                              3rd Tour Departs Dock A @ 1:00 pm
                              4th Tour Departs Dock A @ 1:45 pm
 

AUGUST
   August 5, Sunday: 1st Tour Departs Dock A @12:30 pm
                                                          2nd Tour Departs Dock A @ 1:15 pm
                                  3rd Tour Departs Dock A @ 2:00 pm
                                   4th Tour Departs Dock A @ 2:45 pm
August 8, Wednesday: 1st Tour Departs Dock A @5:15 pm
                                                             2nd Tour Departs Dock A @ 6:00 pm
                                        3rd Tour Departs Dock A @ 6:45 pm
                                        4th Tour Departs Dock A @ 7:30 pm
August 29, Wednesday: 1st Tour Departs Dock A @5:15 pm
                                                               2nd Tour Departs Dock A @ 6:00 pm
                                            3rd Tour Departs Dock A @ 6:45 pm
                                            4th Tour Departs Dock A @ 7:30 pm
SEPTEMBER
September 1, Saturday: 1st Tour Departs Dock A @11:00 am
                                                              2nd Tour Departs Dock A @ 11:45 am
                                             3rd Tour Departs Dock A @ 12:30 pm
                                          4th Tour Departs Dock A @ 1:15 pm
September 8, Saturday: 1st Tour Departs Dock A @12:00 pm
                                                              2nd Tour Departs Dock A @ 12:45 pm
                                           3rd Tour Departs Dock A @ 1:30 pm
                                           4th Tour Departs Dock A @ 2:15 pm