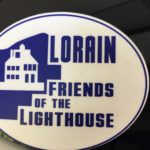 You can become a member of the "Friends of the Lorain Lighthouse Foundation".  We need you as a "Friend"
now more than ever. Your contributions are tax deductible and very important in 
helping us in 
the restoration & preservation of the historic Lorain Lighthouse.
     If you know anyone, a company or organization that can  donate supplies, products, services or funding to make our lighthouse an exceptional historical asset, please let us know so that we can contact them.
     Visit our website or Facebook page to see photos of our work to date. This is a cause we all can get behind!
     Remember our board members are available to speak to you or your organization upon request.
Complete and mail the application with a check or
Complete the application and pay with PayPal ===>