UNITED STATES LIGHTHOUSE SOCIETY
LIGHTHOUSE PASSPORT CLUB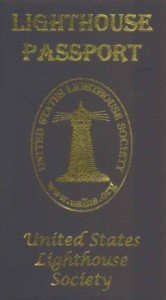 The Lorain Lighthouse "The Jewel of the Port" has joined the United States Lighthouse Society's Lighthouse Passport Club.
Two different stamps are available. One for persons touring the Lighthouse in person and one for those viewing it from the shore.
The stamp will be applied to the official Lighthouse Passport book available at both locations for the cost of $14. For those already owning the passport, a donation is appreciated for the restoration program of the Jewel of the Port.
The Port Authority office, 319 Black River Lane, Lorain, OH 44052 has the stamp & passports for those viewing the lighthouse from shore. Their hours are 8:30am to 4:30pm Monday – Friday.
The U.S. Lighthouse Society has a reward program for those filling their passport with different lighthouses participating in their program. The various locations can be found at www.uslhs.org.
The stamps were designed by two Lorain County Community College students, Joyce Darmstadt and Andrew Black.